Hill Havurah's Yavneh on the Hill (Religious School) 2020-2021 Your child/ren will participate in meaningful and fun Jewish educational experiences.

Yavneh education is based on these important Jewish values:
Pikuah Nefesh (protecting life is of greatest importance)
Talmud Torah B'Simcha(joyful learning)
Kehillah (community)
Our goal is to help our students develop their personal Jewish

identity.
Registration

is ongoing. Please contact Alan Shusterman, Executive Director, for more information: alan.shusterman@hillhavurah.org
Here is our Yavneh 2020-21 school calendar.
Classes include learning by participating in fun educational Judaica and Hebrew classes and activities, i.e. art, music, technology, cooking etc.
* PreK and K students with Amanda Guilardi and Jessica Nooriel, 9:30am-10:30am
* 1st-3rd grade students, 9:30am-11:00am:
1st grade teacher, Robyn Greenblatt
2nd grade teacher, Elana Rosner
3rd grade teacher, Shana Medel
* 4th-6th grade students, 10:30am-12:30pm:
4th grade teacher, Dan Waxman
5th grade teacher, Dani Satlow
6th grade teacher, Jamie Weiss
* 7th grade/B'nai Mitzvah students will study twice a month with Rabbi Hannah, 10:30am-12pm.
*Kehillah (Community) Gathering with Rabbi Hannah and Rabbi Julie to sing and celebrate together!
* Special Needs Consultant Sarah Kravitz is working to support teachers, students, and parents to better meet the needs of students with learning and behavior challenges. She also is providing guidance to help our staff learn new strategies for virtual learning.
4. Registration and Tuition:
If you already have a hillhavurah.org account, please log in (if you're not already logged in) and click on "MY ACCOUNT" under the "MEMBERSHIP" tab on the navigation bar above. Then, click on the "Start School Enrollment" button and begin registration.
If you do not yet have a hillhavurah.org account, click on "New User: Register Now" in the upper right hand corner of this page.
Tuition rates remain unchanged from last year:
PreK 3 & 4: $900 for members and $1,272 for non-members
K-6th grade: $1,400 for members and $1,750 for non-members
7th grade: $500.
If tuition is a concern, please contact Alan Shusterman, Hill Havurah Executive Director , for a confidential discussion at Alan.Shusterman@hillhavurah.org.
We welcome non-members to enroll their child/ren in Yavneh. If you have any questions about our creative, hands-on, inclusive, and welcoming Jewish education program for PreK3-7th grade students, please contact Rabbi Julie Gordon, Hill Havurah Rabbi Educator. She can be reached at rabbijulie@hillhavurah.org or (301) 836-1259.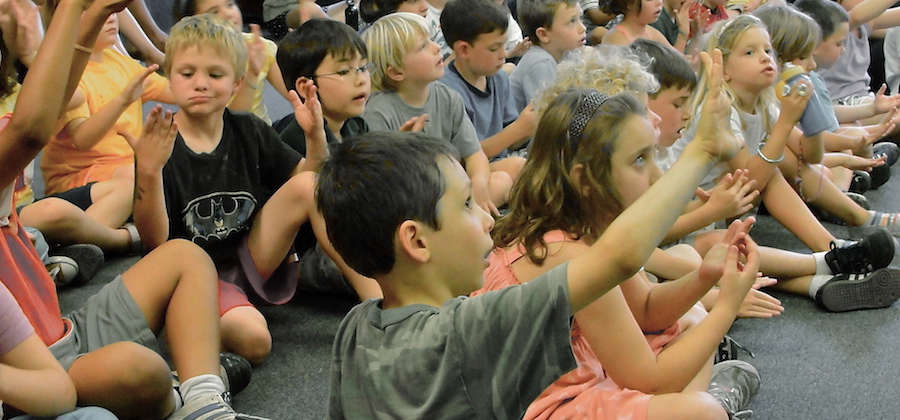 Yavneh on the Hill Jewish Education Program
Yavneh on the Hill is Hill Havurah's Jewish education program for students in PreK-3 through 7th grade, with post-B'nai Mitzvah opportunities for teens to work as madrichim (teacher's assistants). We welcome children to our engaging and supportive hands-on learning environment taught by caring teachers who are enthusiastic about sharing their Jewish passions and knowledge. We seek to foster a warm, inclusive, and stimulating environment for students and their families to develop their personal Jewish identities.
Students develop Hebrew prayer skills to actively participate in Shabbat and holiday services. Each student will develop knowledge and comfort to lead his/her Bar/Bat Mitzvah service.
Yavneh's educational goals are to provide students with opportunities to develop a personal appreciation for Jewish culture, traditions, values, and texts. Students:
Celebrate Jewish holidays through study and creative projects that are integrated in our whole-school spiral curriculum. Students in each grade build and deepen their knowledge gained from prior years;

Participate in

Tikkun Olam

(repairing the world) projects with the Hill Havurah community. These opportunities will supplement their study of Jewish tradition's values to help improve the world. The projects will guide them to deepen their commitment to social justice for all people in need of our support;​

Develop respect and commitment to care for Jewish people in the USA, Israel, and throughout the world. Learn about the variety of ways to express Jewish identity and gain understanding for people of other faiths

.

Develop Hebrew reading skills to understand and chant Shabbat and holiday prayers.
Melissa Werbow, Education Director
Schedule
Pre-K through 3rd Grade Schedule during the year:

Students study from 9:30 am-11:30 am. Students are also welcome to participate in arts and crafts, stories and games from 11:30 am-12:30 pm.

Children enrolled in 4th Grade through 6th Grade:

Students study from 9:30 am-12:30 pm. In addition to their curriculum described in the links below, students study Hebrew in small groups to support and encourage each child's progress.
Curriculum Highlights
Hebrew:
Pre-K: Student learn basic modern Hebrew words and songs.
Kindergarten through 3rd Grade: Students learn brachot (blessings) and the Aleph-Bet through song, art, Aleph Bet Yoga, and Hebrew Through Movement.
4th-6th Grade: Students develop Hebrew reading skills and personal understanding of prayers and brachot (blessings).
The 7th Grade/B'nai Mitzvah class studies with Rabbi Hannah. They are learning the Shabbat morning service, exploring the meaning of prayers, and develop prayer leadership skills.
Judaic Studies: Click on the links below to see a detailed curriculum for each grade
Shabbat, Holidays, and Israel:
Using our whole-school curriculum, each class learns a different aspect of holidays and celebrate the rituals and enjoy eating the special foods. Kindergarten students are welcomed to Jewish education/Consecration during our community Simchat Torah celebration.
2020-21 Tuition and Registration
Tuition for K-6th grade is $1,400 for members and $1,750 for non-members.
Tuition for Pre-Yavneh is $900 for members and $1,272 for non-members.
Tuition for 7th grade is $500.
Questions
If you have questions about Yavneh, please email Rabbi Julie Gordon at rabbijulie@hillhavurah.org or call her at (301) 836-1259.
If you have questions about enrollment, payment, or financial assistance, please email Hill Havurah Executive Director Alan Shusterman at alan.shusterman@hillhavurah.org.
Fri, May 7 2021 25 Iyar 5781