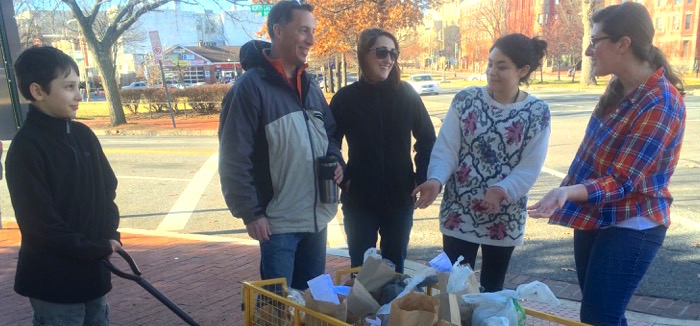 Tikkun Olam Committee
Mission Statement

The Jewish values of Tikkun Olam ("repair of the world") and Tzedek ("justice") have long been cornerstones of Hill Havurah. Through acts of community service and by fighting for social justice, Hill Havurah is committed to making the world more equitable, fair, peaceful, and just.
Work of the Committee

The Tikkun Olam committee offers a number of ways for members to get involved. They include:
Direct service.

Hill Havurah has historically provided members to get involved in direct service opportunities to

assist migrants and refugees

, to participate

in interracial and cross-religious dialogue

, to clean up the Anacostia River, or to provide goods and services to community members in need.

Educational opportunities.

The Tikkun Committee frequently sponsors talks or events for community members on important issues related to social and community justice. Recent

events

have focused on racial justice, Holocaust awareness, and returning citizens.

Charitable Giving.

Each year, the Tikkun Olam Committee raises or donates between $10,000 and $20,000 to issues of concern to our congregation and community. This money is raised through a combination of donation drives and through the

Jon Genderson Memorial Fund

. Which supports the Havurah's charitable work. Previous donation drives have supported

local mutual aid networks

,

returning citizens

, earthquake victims in Syria and Turkey, and refugees from Ukraine. Ongoing, annual drives support

EveryoneHomeDC

, the

Lutheran Church Food Pantry

, and

Little Lights

.
If you would like to make a donation to support the committee's work, please donate to the Jon Genderson Memorial Fund If you would like to organize or run and event on behalf of the committee, learn more about upcoming activities or are interested in joining the committee, please contact the committee chair, Nate Allen (nate.df.allen@gmail.com).
Sun, September 24 2023 9 Tishrei 5784