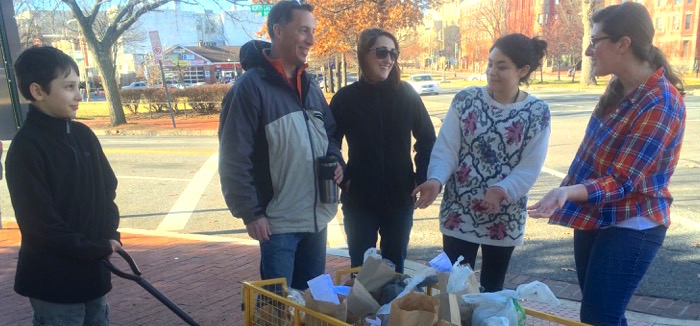 Tikkun Olam Committee
Mission Statement
The Jewish values of Tikkun Olam ("repair of the world") and Tzedek ("justice") have long been cornerstones of Hill Havurah. Through acts of community service and by fighting for social justice, Hill Havurah is committed to making the world more equitable, fair, peaceful, and just. The Tikkun Olam committee strives to do this through direct service and charitable giving, issues advocacy, and working to be actively anti-racist.
As of 2020, the Tikkun Olam committee was re-formed to more directly include the work of the Tzedek committee, which was an independent committee from 2017-2020. The Hill Havurah Board had established specific operating guidelines for the Tzedek committee, which the re-formed Tikkun Olam has adopted.
Background
Recognizing that the values of Tikkun Olam and Tzedek are as important as they are intertwined, in the spring of 2020, Hill Havurah made the decision to combine the work of these two committees. Historically, the committees have been involved in issues including:
Racial justice and gender equality

,

immigration and refugees

, and

Jewish/Muslim dialogue

in the Capitol Hill area and across Washington D.C.

Co-hosting events to educate members on social justice issues and to provide opportunities for the membership engage actively in tikkun olam.

Supporting and amplifying the work of other community service and social justice organizations.

Partnering with other Jewish and other religious organizations engaged in community service and social justice work, including interfaith dialogues, calls for action, and refugee resettlement.

Ongoing food, gift, and financial donation drives to community service organizations like

Everyone Home DC

,

Little Lights

, and

Yachad

.
Work of the Committee 2020-2021
In light of both the COVID-19 pandemic and the national conversation around racial justice and equality, the work of the Tikkun Olam committee for the next fiscal year will include, but not be limited to:
Working to support anti-racist learning and education for the Hill Havurah community.

Working closely with the newly-established

Hill Havurah Anti-Racism Task Force

to further Hill Havurah's commitment to racial justice.

Identifying opportunities for COVID-specific work.

Identifying opportunities and making recommendations to the Hill Havurah board on how the activities and operations of Havurah can better serve the community and reflect the values of Tzedek and Tikkun Olam.

Continuing the work of the prior committees as appropriate.
If you would like to learn more about upcoming activities or are interested in joining the committee, please contact the committee co-chairs, Nate Allen (nate.df.allen@gmail.com) and Sarah Erdreich (serdreich@hotmail.com).
Fri, March 31 2023 9 Nisan 5783